*******SIMPLE QUESTIONS*******
1. FULL NAME: Whatever you want to call me. bahahaha
2. NICKNAMES: JessicO!, Jesspeeca... basically
3. EYES: hazel
4. HEIGHT: 5'5"
5. HAIR: reddish
6. SIBLINGS: I hate you. HAHAHAHAHA JUST KIDDING FATTY!
7. DO YOU LIKE TO SING IN THE SHOWER?: I like to sing EVERYWHERE!
8. DO YOU LIKE TO SING IN THE TOILET?: I'm usually only in the toilet on a Thursday night, and singing doesn't cross my mind. Too busy drinking the water.
9. BIRTHDAY: July 12th
10. SIGN: Cancerrr
11. ADDRESS: whatever
12. SEX: IMMA GAL!
13. RIGHTY OR LEFTY: righty
14. WHAT DO YOU WANT IN A RELATIONSHIP?: money. That pretty much covers it... (HAAHHAHAHAHAHAHAHAHAHHAHAHA!)
15. LAST BOOK YOU READ?: Uuuuh...
Inside the Illusion
... number ten of the Everworld series. I think it's ten. I don't really remember. Nine, actually, now that I think of it.
16. MARITAL STATUS: untaken
17. DO YOU HAVE A CAR?: yes
18. WHAT KINDA CAR YOU HAVE/WANT?: big and ugly, just like my sister. HAHAHAHAHAHAHAHAHA! Just kidding XD My sister is not big, nor is she altogether grotesque. askldjfklasdf!!! I LOVE YOU, NICOLE!
*******FAVORITE QUESTIONS*******
19. MOVIE: Lord of the Rings.
20. SONGS: "I'm Not Okay" by My Chemical Romance (that's right!), "Lazy Eye" by Silversun Pickups, "Crush," "Snail," "Daydream" by the Smashing Pumpkins, "Followed the Waves" by Auf der Maur, etc.
21.BAND/SINGER: The Smashing Pumpkins
22. TV SHOWS: The O.C. (I MISS IT!), So You Think You Can Dance, American Idol
23. ACTOR: Giovanni Ribisi
24. ACTRESS: Cate Blanchett
25. FOOD: chocolate.
26. NUMBER: 17
27. CARTOON: Spongebob
28. DISNEY CHARACTER: the hound in Fox & the Hound
29. COLOR: red
*******LOVE LIFE ETC*******
30. DO YOU PLAN ON HAVING CHILDREN?: adopting
31. DO YOU WANT TO GET MARRIED?: I don't really not want to
32. HOW OLD DO YOU WANT TO BE WHEN YOU HAVE YOUR FIRST CHILD?: I don't want to ever HAVE a child... I figure I'll be mid-late twenties by the time I adopt one, though ;)
33. HOW OLD DO YOU WANNA BE WHEN YOU GET MARRIED?: I dunno. Mid-late twenties XD After I graduate college and get a real job
34. WOULD YOU HAVE KIDS BEFORE MARRIAGE?: nah
35. DO YOU HAVE A BF/GF?: nah
37. DO YOU HAVE A CRUSH?: Gerard Way. hahahhahahahhahha!
*****EITHER-OR (PICK WHICH ONE YOU PREFER)**********
38. MUSIC/TV: music
39. GUYS/GIRLS: for what?
40. GREEN/BLUE: blue
41. PINK/PURPLE: pink
42. SUMMER/WINTER: winter =\
43. NIGHT/DAY: hmmm I like 'em both for different reasons
44. HANGIN OUT/Chillin: ...
45. DOPEY/FUNNY: both
*******ALL ABOUT YOU*******
46. WEIRD SAYING YOU HAVE: "You don't know, Nicole! You've never been fat!"
47. WHAT SCHOOL DO YOU GO TO?: whatever school I WANT to go to!
48. HAVE YOU EVER TAKEN DRUGS?: legal drugs... legally
49. WHAT'S A MAJOR TURN-ON FOR YOU?: musicians... Just look at these guys!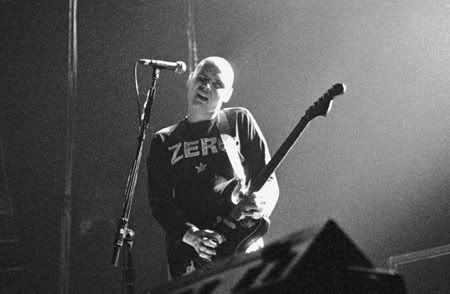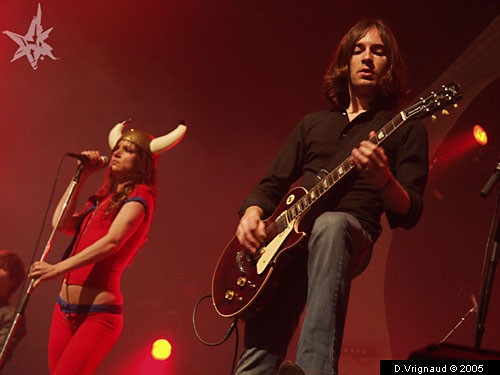 (ignore the girl with the horns)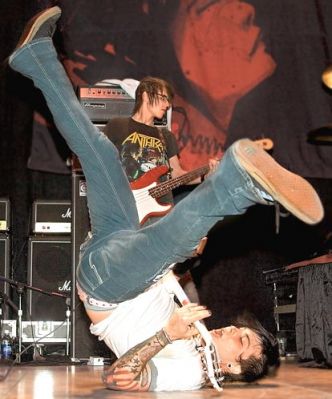 (both men in this are outrageously good-looking)
Okay... so they're all kinda ugly. But in a hot sort of way ROFL!
50. HOW FAR WOULD YOU GO ON A FIRST DATE?: I dunno, if he's driving I guess it wouldn't matter. But with gas prices I'm pretty sure we'd stick to a ten-mile radius.
51.HAS YOUR HEART EVER BEEN TRUELY BROKEN: of course. Not necessarily by a boy. Or a girl *rolls eyes*
*****WHICH FRIEND FITS THESE DESCRIPTIONS?********
*BLONDE: Brit
*NICEST: ummm... I dunno! They all are...
*FUNNIEST/HAPPIEST/LOUDEST: Nikole
*STRANGEST: Lisa. But in a good way =)!
*MOST CARING: ummm... Lisa
*TALLEST: Phil.
*SMARTEST: Jason
*BEST PERSONALITY: I dunno!!
53. WHAT DO YOU THINK OF SOUL MATES: I don't think people were born for each other, if that's what you mean.
54. WHEN IS THE NEXT TIME YOU WILL TALK TO YOUR CRUSH?: who knows?
55. WHAT WAS THE LAST THING YOU CRIED OR GOT TEARY ABOUT?: probably a song. I think "Crush" by the Pumpkins is so beautiful... just... "Love comes in colors I can't deny/All that matters is love" It's so beautiful. Luckily I haven't had much else TO cry over.
56. WHAT'S SOMETHING ABOUT GUYS/GIRLS YOU JUST DON'T GET?: Why guys seem to think I'm "just a girl" (oh Gwen, preach it!) and why girls have to conform to their steryotypes and expectations.
57. ARE YOU HAPPY?: yep
58. WHY?: aksdlfjsdlkfjslkf!
59. WHAT'S AN OBJECT YOU CAN'T LIVE WITHOUT?: Johnny, my acoustic guitar. All my other instruments are beautiful and I really do love them like family. I know them. Angel is just a party animal totally overflowing with love for rock and roll, and she's finding as much as I am that funk is a wonderful ingredient to add to rock. Glass is sooo moody. He's such a boy. Honestly, he's an attention hog and he's got a temper and he does what he wants. He picks what songs he wants to sing based on his mood and whether he wants to tune properly. But if something happened to them--they got stolen or broken or whatever--I'd be able to move on and buy new instruments. But with Johnny... he's just... he's seriously my best friend. He's like an old dog. He's loyal and he's calm but he's got an attitude about him. This, "Let's just play something together, Jessica!" attitude that never fails to make me feel better. He can never be replaced. If something were to happen to him... I'd just die.
60. LOVE OR LUST?: Love
61. SILVER OR GOLD?: both are nice
62. DIAMOND OR PEARL?: pearl
63. SUNSET OR SUNRISE?: Sunrise... it's so fun to stay up all night and only realize how late/early it is when you notice the sky is more gray than black. It's nice...
64. HAVE YOU EVER GONE SKINNY-DIPPING?: nopers
65. DO YOU SLEEP WITH STUFFED ANIMALS?: nah, just muh blankie
66. DO YOU HAVE ANY PIERCINGS?: no
67. WHAT COLOR UNDIES ARE YOU WEARING RIGHT NOW?: black
68. WHAT SONG ARE YOU LISTENING TO RIGHT NOW?: TV
69. NUMBER?: forty-seven
70. WHERE WOULD YOU WANT TO GO ON YOUR HONEYMOON?: New York or Chicago
71. WHO DO YOU WANT TO SPEND THE REST OF YOUR LIFE WITH?: Johnny.
72. WHAT'S THE FIRST THING YOU NOTICE ABOUT THE OPPOSITE SEX?: Hair, generally
73. FAVORITE SPORT?: floor hockey, ultimate frisbee, tennis, NASCAR
74. WHAT MAKES YOU HAPPY?: everything
75. WHAT'S THE NEXT CD YOU GONNA GET?: ZEITGEIST!!!!!!!!!! I think. I doubt I'll be getting any before then =)
76. DO YOU WEAR CONTACTS OR GLASSES?: nope
77. WHAT ARE SOME OF YOUR BAD HABITS: overreacting
78. HAVE YOU EVER WON ANY SPECIAL AWARDS?: I guess... I don't know.
79. WHAT ARE YOUR FUTURE GOALS?: whatever. to rock.
80. WORST SICKNESS YOU EVER HAD?: I don't know.
81. DO YOU LIKE FUNNY OR SCARY MOVIES BETTER?: funny
82. ON THE PHONE OR IN PERSON?: person
83. HUGS OR KISSES?: neither. I hate them. hahahhaa
84. WHAT SONG SEEMS TO REFLECT YOU THE MOST?: I don't know. Everything.
85. IF YOU DIED TOMORROW- WHO WOULD YOU LEAVE EVERYTHING TO?: everyone
86. DO YOU HAVE ANY ENEMIES?: you
87. WHAT IS YOUR GREATEST FEAR?: your mom
88. WOULD YOU RATHER BE RICH OR FAMOUS?: eh. mini-famous
89. WHAT TIME IS IT IN ALBANIA RIGHT NOW?: sldkfjsad
90. IF YOU HAD 24 HOURS LEFT TO LIVE, WHO WOULD YOU SPEND THAT TIME WITH?: your mom
91. HAVE YOU MET SANTA?: no
92. IF E.T. KNOCKED ON YOUR DOOR HOLDING UP A PEACE SIGN ASKING TO USE YOUR PHONE WHAT WOULD YOU DO?: smile
93. WHEN WAS THE LAST TIME YOU TALKED TO THE PERSON YOU LIKED?: I hate everyone
94. YOU HAVE ANY PETS?: no. hahahhaa
95. WHATS YOUR EMAIL ADDRESS?: your buttface
96. LAST TIME YOU WERE DEPRESSED?: when I saw your face
97. ARE YOU AN ALCOHOLIC?: Yeah.
98. WHO SENT THIS TO YOU?: sdfljsdlkf
99. WHAT DO YOU THINK OF THAT PERSON?: poo! hahaha